Ever since I discovered HAIM (
pronounced hI'em
) on SirusXM Alt Nation early in the school year, I have gone from not knowing them at all, to shamelessly busting out my side to side swing-step-snap dance move, along with mouthing the lyrics, and dramatically "performing the song" wherever I happened to be.
A little on the band before we begin.
HAIM is made up of the 3 Haim sisters- Danielle (oldest in term of age), Este (middle child, aka "cray-bass-face") & Alana (youngest, aka "baby haim"), from San Fernando Valley. The band started out as a family band (with mom and pop) that did covers for charity, it wasn't until later that the band started performing as supporting acts for other bands.
ONTO THEIR STYLE....
the Haim sisters give a laid back, relaxed, "LA based girl goes to Palm Springs" style vibe.


(img source: web)
Este (blondest-hair colour one of the three) is caught mostly wearing a casual little black skater dress, while Danielle and Alana have black frayed cut off shorts, leather pants, or any black bottoms. Their staples include but are not limited to black leather moto jackets, green utility jacket/vest, black ankle boots, white-t, and occasionally red lips (by Este...total women power symbol here!). OH! and how could we forget- their iconic long carefree brown-blonde hair just flowing loosely in the wind.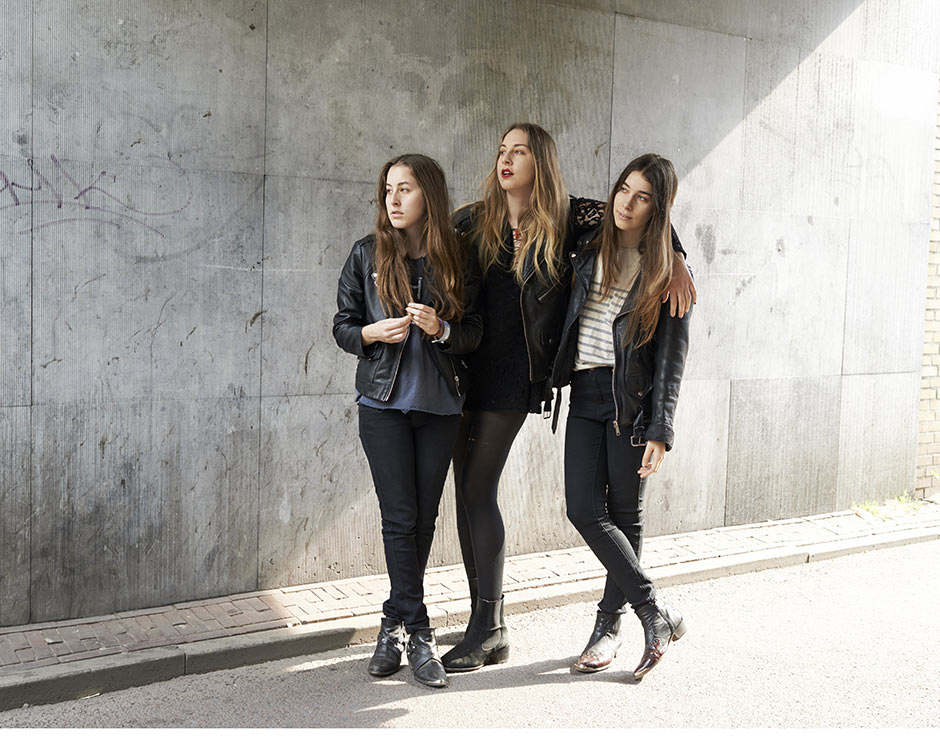 (img source: web)
Their color palette is mostly black and a little white, however they don't resort to black. I think they just enjoy wearing black when performing so that is the more common "image" of them. Other clothing pieces are in faded/light colors that don't draw too much attention, but I do enjoy how their clothing pieces are very 90's rock reminiscent. Quite a few self-cut old school band tee's, cloth bomber-varsity jackets, and denim clothing. It's so hard to just give them a 'type' but if I had to choose to categorize them, it would be "90's biker chic-meets charity store-on Melrose Ave". Confusing. I know, but these girls sure know how to put me in the "friday nights in/with the bestie/jumping on the bed/record spinning" mood, scream "go girl power!", and make me groove with those sneaky R&B rhythms in their tunes.


(img source: oliver walker)
--------------------------------------------------------------------------
I haven't gotten the chance to see them live yet, but that is one of my goals...and also to meet them!! (my dreams are kind of big yeah I know.) Here's one of my favorite performances from the sisters, the entire video is 18-19 min long, but watching a little will get you a good dose of Este's cray face that I find so entertaining. THEY ARE SO RAD!! UGH! ♥